I hope your week has been as awesomely productive and exciting as mine!
I've coached a few clients, gave an AWESOME presentation about "How to Master the Secrets of Great Storytelling" to a couple hundred folks and just finished an all day VIP Strategy Coaching Session with Celebrity Psychologist Dr. Sherry Blake.  (You've probably seen her on television shows like WEtv's The Braxton Family Values, Bravo's Real House Wives of Atlanta, Married to Medicine and more)  Yes… she's the bomb dot com and is making Mental Health look good!
I spent an entire day helping her Monetize her Expertise, get Brand clarity, develop Money-making Marketing strategies and build her Speaking empire so she can take her Brand and Message to the masses.  I absolutely love coaching and helping people tell and sell their stories better and I thank God everyday for using me as a vessel to do this kind of work.
Well, during a quick mid-day break from my intense Coaching Session with Dr. Sherry, I ran into a guy I knew in the hallway.  We shook each other's hand, gave one another the manly shoulder to chest hug and I cordially asked him, "So how's it going bro?"  He looked me in the eye while shaking his head, faintly smiling and replied, "I'm hanging in there man."  I paused for a second, pointed back at him and responded, "Don't hang…climb!"
That exchange reminding me of a truth we all know but sometimes overlook.  I'm sure you're familiar with the catch phrase "I'm hanging in there" but probably have never taken the time to reflect on what it actually means when people say it.
"Hanging in there" implies you're barely making it; you should complain about your situation, but you don't.
Better yet, you could be doing better, but something is in the way of your progress and success. 
As you already know, I'm a firm believer in mind elevation.  I believe words serve as powerful prerequisites of our passions, plights and purpose.  We speak our realities into existence on a daily basis.
Which leads me to my question, "What are you currently doing about the difficult situations or circumstances in your life that you've been hanging on to?"  You know all the ones you don't like to talk about that deep down you know are holding you hostage and not allowing you to prosper or progress.
What are you doing about the dead-end job, financial woes, loveless relationship, distant dreams & flawed friendships you've been holding on to?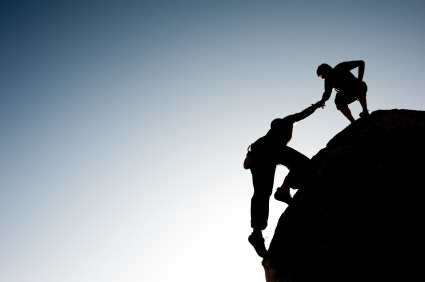 Is it ok if we have a quick Coaching moment?  Good!
I want you to imagine your life metaphorically as a mountain.  As you travel about on your life's mountain and carve out your personal path, realize that the decisions of direction you make determine your destiny.
So if you find yourself facing a difficult decision along your journey while attempting to make it to the top of your mountain, it's up to you to choose your approach wisely.  When the rocks beneath you collapse and the stable ground you were once so familiar with no longer exists, what do you do? 
When the backpack you've been carrying filled with what you deem life's essentials and necessities gets heavier without something firm to stand on, how do you endure?
When your arm muscles tell your hands we can't hang on much longer, the safety rope is giving way and there's no one around to help or hear your cry.
You have 3 Choices and MUST Make a Decision. 
You can simply accept failure, give up and let go, where you'll experience a self-defeated fall to your doom and demise.
You could hang on hoping someone will rescue you from your paralyzed disposition.  Hanging there stuck in your personal paradigm of indecision, insecurity and uncertainty, never fostering the courage to choose.  Hanging there wishing and wondering what it would be like if you made it to the top, yet not willing to do what it takes to get there.
The last choice is the decision to climb!  Forget about how and why the rocks beneath you collapsed leaving you dangling with depression, disappointment and discouragement.  Let go of the heavy backpack of burdens you've been carrying around so long because of misguided truths about life's necessities.
Start listening to the voice that tells you how you're more powerful than you imagine if you simply trust and transform your fears into faith.  Verbalize and repeat that truth out loud until you've climbed out of the hanging position that's been keeping you from reaching your mountain top.
No one promised you that life would be easy.  We all experience tears and turmoil, stresses, struggles and strains, hurts, hard times and headaches, but you must not let that deny you of your destiny.
In my opinion, failure and stagnation are not options; there's only growth and progress. 
YOUR CHALLENGE: Today, I'm encouraging you to continue trusting God and transforming all of your deep seeded fears into faiths that move you higher up your metaphoric mountains of life. So remember the next time someone tells you they're "hanging in there," be sure you look them directly in the eye, shake your head no and tell them, "Don't just hang, climb!"
Change Begins and Ends with You!
Remember, I'm always rooting for you and can't wait for the world to see the REAL You! 🙂 "Stay Out of Your Own Way!"