As an in-demand Coach and Speaker, I give dozens of keynotes and workshops a year and have often begun with this question:
 

"Who in this room considers themselves a winner?"

  
If I told you there's a race for $100 billion dollars which would make you the richest person in the world, would you sign up?  This is the point where everyone's hand is raised high with a look of confidence and eagerness.
HERE ARE THE RULES:
1. "There are no restrictions and you'd be competing with some of the world's best athletes."
2. "The race is 2 ½ days long and may involve running, jumping, swimming and/or driving."
Who would still sign up?  (Probably around 60% of the hands still remain raised at this point.)
3. "You couldn't race within 100 yards of anyone you know or who personally knows you and couldn't receive or accept help from any family or friends for the duration of the race; you can only depend on yourself." (By now, only 30% of the hands are half-way still in the air.)
4. "This race has many strategic obstacles and dangers in place which are definitely going to result in several people's death and possibly your own as you race to the finish line."
5. "There's no prize for second OR third place, only First."
Who would still sign up?
(Typically there are 3 or 4 brave souls with their hands still up who either are very courageous, confident or crazy.  The odds of winning are slim to impossible, but nevertheless, out of everyone who started with them, they are the only ones remaining and willing to accept the challenge!)
WHAT WOULD YOU DO?
Of course the above scenario is fictitious and in no way exist, but it serves as a good metaphor of how we psychologically sabotage are successes because of the boxes of fear we utilize to barricade ourselves from possibility.  Life has a funny way of pitting us against our internalized fears of failure.  Many times the tasks given to us aren't difficult, but we trick ourselves out of trying by making excuses of why we cannot make it happen.
If you're anything like me, you sometimes have a PHD at telling folks why you haven't done something.  You're probably used to using the Hall of Fame opening excuse phrase, "What had happened was."  Haha!  I understand, but know this:
"An excuse is just a sophisticated lie we tell ourselves and then try our BEST to sell to other people."  
Until you have the courage to challenge yourself to stop making excuses, your greatest potential or opportunities will evade you in every respect.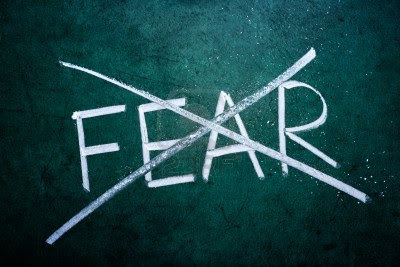 5 Quick Steps to Reduce Your Fear:
Assess your Fear. Ask yourself, "What am I really afraid of and what is it that scares me about these situations?" Fear can be very vague, so categorizing your fear in detail gives you a better idea of what you're up against.
Analyze your Fear. Play out every possible outcome. More often than not, the WORST case scenario is never as bad as it seems.
Access your Faith. Remember all the times God didn't let you down.  This scenario is no different! He's had and always will have your back.
Take Action. You can't Fix what you don't Face and you must face whatever you're afraid of head on! Quit making so many excuses…Make it happen!
Be Accountable. Understand that failure is a part of life and you don't succeed at everything 100% of the time. Be realistic.  By doing this you take some of the pressure off yourself of not possibly getting it right the first time. If it doesn't work the first time…TRY AGAIN!
The Only Limitation You have is YOU! 
As your Coach I'd tell you that your internalized fear of possibly looking like a failure has warped the confidence in your ability to transform your fears into faith.  Stop making excuses of why you can't do something that may seem impossible and start raising your hand as a sign of your willingness to show up!
Do the work necessary to remove your possibility blinders and have the faith to know that God has your best interest in His will.  Faith supersedes fear and when you internalize that mindset, the excuses you used to make will cease to exist.  You CAN DO THIS!  
You might not run and win a race for $100 billion, but I guarantee you'll definitely place well in the race of life when you face your fears!
Change Begins and Ends with You 
Remember, I'm always rooting for you and can't wait for the world to see the REAL You! 🙂 "Stay Out of Your Own Way!"
Feeling Stuck?